Fat Bastard's Burgers

3 July 2020 | Fat Bastard
Fat Bastard's Burgers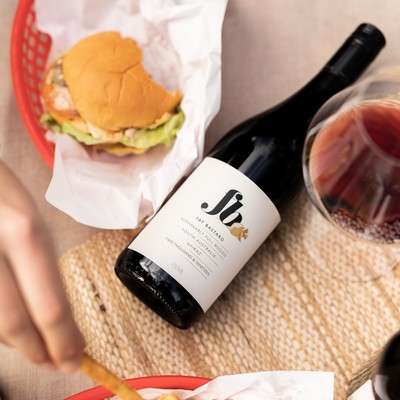 There's nothing a Fat Bastard loves more than a burger.
Correction: there's nothing a Fat Bastard loves more than a burger, except for standing around the BBQ talking about just how good the burgers are going to be. And thanks to this easy recipe, the Fat Bastard of your household can now invite their friends with the knowledge that they'll deliver a memorable meal with minimal effort. After all, any Fat Bastard worth their weight knows that less time spent cooking means more time spent enjoying one of Fat Bastard's full-bodied wines.
Here's what you're going to need:
Burger patties
750g beef mince
1 egg yolk
½ cup of breadcrumbs
2 tbsp of unsweetened condensed milk
1 tbsp Worcestershire sauce
1 tbsp garlic powder
1 tbsp onion powder
Burger bun
Additional treats (all optional)
8 slices of cheddar cheese
2 large tomatoes
Iceberg lettuce, shredded
Pineapple slices (controversial)
Beetroot slices (controversial)
8 rashers of bacon
Condiments: mustard, tomato sauce, BBQ sauce, hot sauce
Wines (choose one, two or three)
Fat Bastard Malbec (Mendoza, Argentina)
Fat Bastard Shiraz (South Australia, Australia)
Fat Bastard Pinot Noir (Languedoc, France)
Method
Locate a heat source suitable for cooking raw meat and preheat it. A barbecue is ideal, a stove top is equally useful. Candles, microwaves and body heat are all highly discouraged ways of cooking burgers.
Combine the ingredients for the burger patties in a bowl and mix them using your hands. And come on, wash your hands first – we're Fat Bastards, not dirty ones. Once mixed, mould the mix into eight evenly sized, patty-shaped patties.
You're about to begin cooking, but remember that you'll need to slice your tomato, shred your lettuce and argue with your guests about the pros and cons of pineapple and beetroot. If you can, delegate this task to someone else so you can concentrate on cooking the burgers.
Oil the grill, pan or whatever you've decided to cook your burgers on. By now, it should be hot hot hot and ready to go. Grill the patties for five minutes per side or until the meat is [insert well done, medium-rare or rare here]. After the first flip, place a slice of cheddar cheese – if desired – on the cooking patty so it's melted. You can wrap these tasty burgers up in some foil to keep them warm while you make final preparations for the meal.
THE BACON! Don't forget to cook the bacon. Whatever you do, don't forget to cook the bacon.
Slice those burger buns in half, butter them up then give them a quick fry/grill with the inside down.
Unveil the burgers to your adoring guests then step back and withhold your judgement while they help themselves to various ingredients. Be sure to have your condiments in an easily accessible place. Some will want to sauce first; some will sauce later; regardless, don't get in their way.
Pour your guests a glass of their favourite Fat Bastard tipple.
You've done it, you brilliant bastard.
Comments
Commenting has been turned off.